AI Website Builder: Launch Your Stunning Website in Minutes
"I just generated a decent-looking website with a simple prompt. Web dev is going to change a whole lot, it's crazy"
How to Generate a Website using AI in a Few Easy Steps?
Follow the simple three-step process below to generate a website using AI.
1.
Describe your website
Enter the text input describing the type of website you want to generate.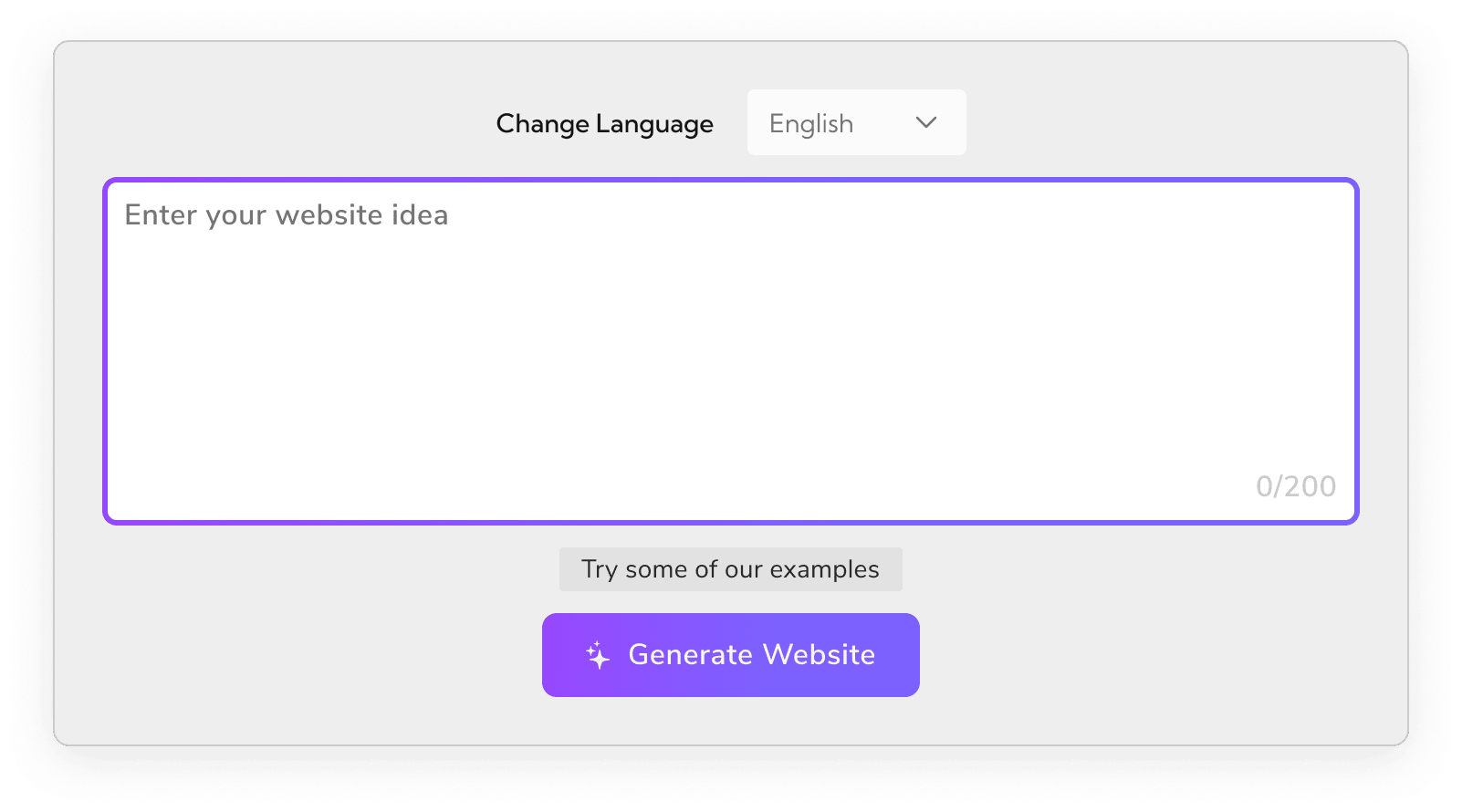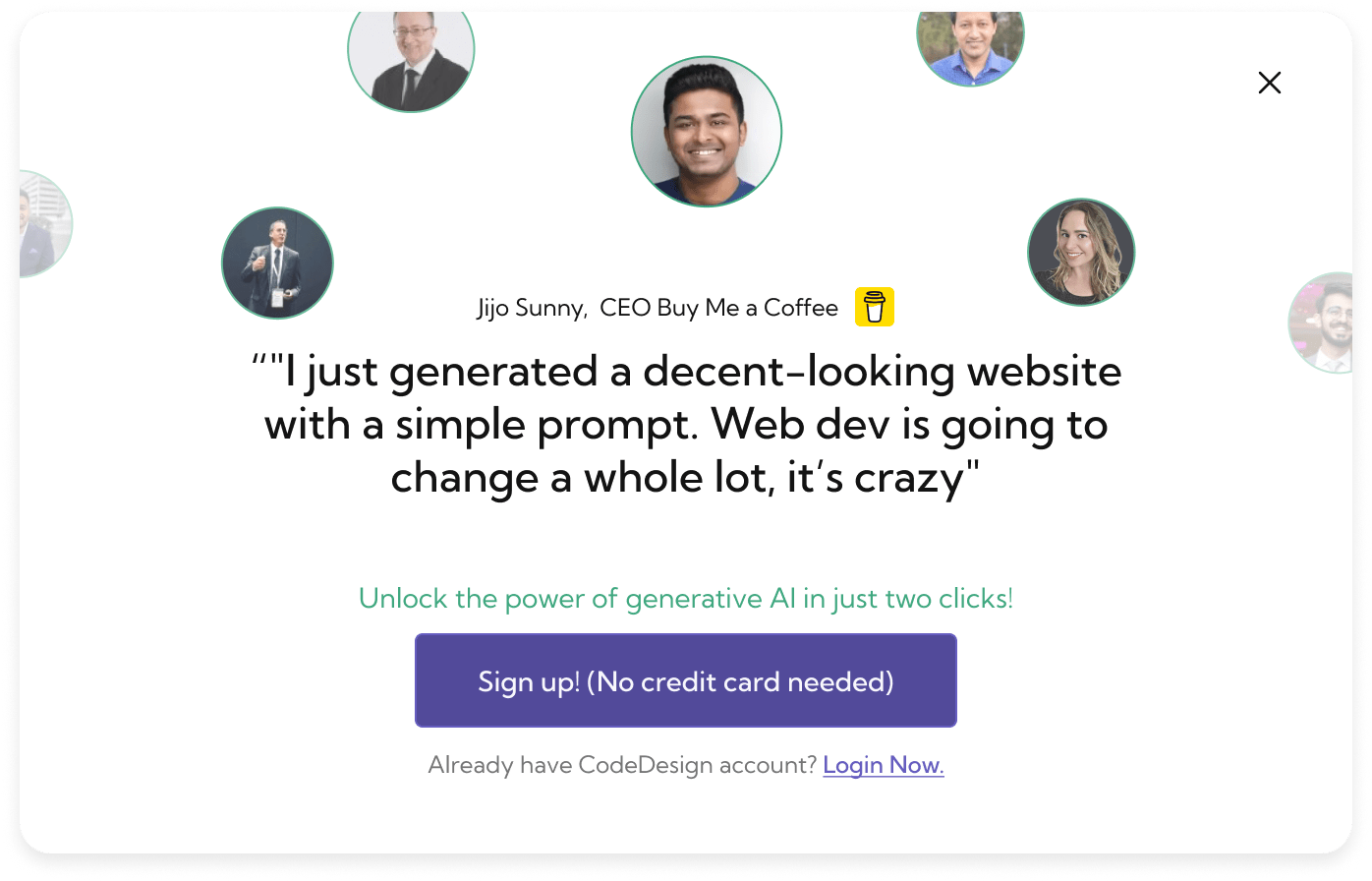 2.
Login into CodeDesign.ai
Sign up or log in to CodeDesign. You can also use the Google Signin for one click access.
3.
Edit your website
Customize the website based on your preferences, and test it on different devices.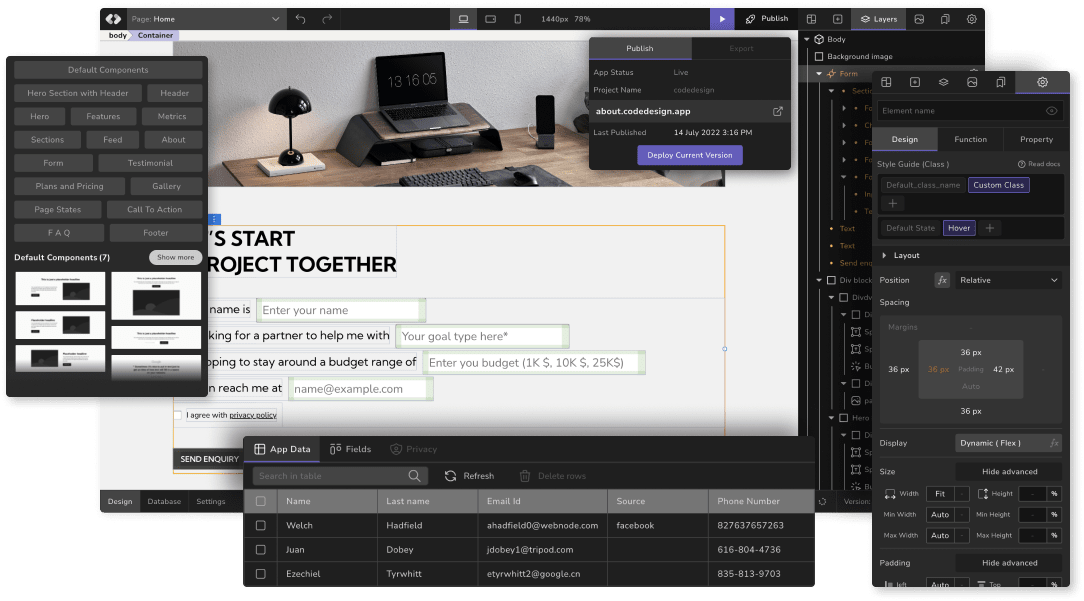 Working with CodeDesign is like having a developer beside you.
Create everything from components to full-fledged pages in one place, all together and in real time—so you can see your ideas come to life as soon as they're on the screen.
Cloud Hosting. Own your components, websites, assets - all in the cloud.
Supremacy of SEO. Go ahead and make a mark with the perfectly crafted SEO.
Publish Anywhere. Preferably Git, Firebase, or Code Sandbox.
Database. Tired of hosting your database elsewhere? We have a handy relational.
Version History. Your past won't be lost! Every version you created is here.
Developer handoff. Save the trouble and export directly to code. We right now support HTML.
Why Generate a Website with AI?
Need a website fast, without much work or cost? CodeDesign's AI Website Builder is here for you! Our cool AI technology makes it super easy to make a great website with just a few clicks.
You don't need to know coding or anything technical - our smart AI does the hard stuff for you. With CodeDesign's AI Website Maker, you can have a fantastic website up and running really quickly.
With CodeDesign's AI Website Creator, you can get a professional website ready super fast. No more struggling to make a website by yourself. Let CodeDesign do it for you, and have your website ready in no time! Try it out now and see how powerful our AI Website Builder is!
What you can do with AI website builder
Landing pages 
Need a landing page that grabs attention and drives action? CodeDesign's AI Website Builder crafts high-converting landing pages in no time.
Porfolio
Showcase your work or skills with a beautifully designed portfolio website. With CodeDesign's AI Website Builder, creating a stunning portfolio is as easy as pie.
Websites
Building a website from scratch seems daunting? CodeDesign makes the process super easy. Whether you need a blog, a business site, or an ecommerce store, our AI tool takes care of the techy stuff, so you can focus on sharing your vision with the world.
Sales funnels 
Create efficient sales funnels that turn browsers into buyers. CodeDesign's AI Website Builder simplifies the creation of sales funnels, guiding your visitors step-by-step through the buying process.
Webinar Pages 
Planning a webinar? We've got you covered. Share your knowledge, connect with your audience, and grow your community, all while our AI handles the technical details for you.
Get Start Building
Get start for free! Grab Lifetime time deal now
FAQ
What is the AI Website Builder by CodeDesign?
CodeDesign's AI Website Builder allows you to create and deploy websites in seconds. It uses AI to help you launch and validate your website from just a simple prompt.
Can I edit my design and page after it's created?
Absolutely! We are a complete website builder. You can use our canvas editor to edit text, images. If you don't like something, you can start entirely from scratch or use our extensive template library.
What are the pricing plans for CodeDesign's AI Website Builder?
CodeDesign offers different pricing plans, including a Basic Plan, a Standard Plan, and a Lifetime Subscription. Each plan comes with different features and benefits​. There is also a Free Plan for those who want to experiment with CodeDesign and build their first project​2​.
Can I use my own domain name with CodeDesign's AI Website Builder?
Yes, with all paid plans, you have access to our Domain Connector that lets you host your site on your own domain name: eg: yourname.com
How can I contact you?
You can contact us by phone, email, or chat. Our customer support team is available to assist you with any questions or concerns that you may have. Please feel free to drop us a message on the Chat bubble on this page to get started.
What is the 'AI Magic' feature in CodeDesign's AI Website Builder?
The 'AI Magic' feature allows you to enhance your website content. If you're not satisfied with the content or a particular heading, or if you want to make it more SEO-friendly, you can use the AI Magic feature to improve your copy​.
Would you like to try our AI Website Maker for free?
CodeDesign is your go-to AI website maker! Whether you're new here, or back to see what's up, we'll have you running and ready to do your best work in minutes.
© 2023 CodeDesign, Inc.
For your security, all data is yours & all orders are processed via Stripe.